The Best And Easiest Way To
The TruSwing™ Pro is a lightweight golf training aid designed to create the correct golf swing positions.

Try it now risk free with our 30 day money back guarantee.










All Golfers Struggle With What The
Slicing, hooking, topping the ball? We can guarantee you are not hinging your wrists correctly and/or swinging on the incorrect plane.
By hinging your wrists correctly and swinging on plane you will ensure you are on your way to the perfect golf swing.

Corrects wrist positioning, swing plane and face alignment throughout your golf swing which leads to a better strike at impact, increased distance and accuracy and most importantly lower scores!
If you don't know how to use it don't worry! We have free tips and drills by PGA Professionals.
Suitable for both right and left handed men, women and junior golfers.

But Don't Just Take Our Word For It
"I have been using my TruSwing Pro on the range once a week and I have knocked 6 shots off my handicap."
-

Terrence C.

"This golf training aid has truly helped get me into the correct backswing after years of frustration. Last week I had the best ball striking round years!
"
- Gary M.

"I have been using this for around a month and have noticed a HUGE difference. Must have flattened out my swing because I can hit my driver miles further."

-

Pearce K

.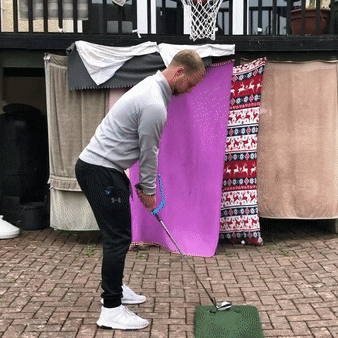 PGA Professional Coach Jamie Crocker
"One of these is going to be very beneficial for you."
"Who knew something so simple
could make such a big difference to my game".

Suitable For The Beginner To Professional Golfer
SIMPLY ATTACH TO ANY GOLF CLUB
Can be used whilst hitting balls at practice.
It only takes a few seconds to attach the TruSwing™ Pro to any golf club.
Unlike most golf training aids the TruSwing™ Pro can easily fit in your bag so you always have it wherever you practice.
Designed with a washable pad so you can practice for hours with no distress.
The TruSwing Pro™ is endorsed and utilized by USA, UK, CAN and AUS PGA professional coaches.


Attach over the shaft of your club (not grip).

Pull up onto grip and position close to your bottom hand index finger.

Align the TruSwing™ Pro with the bottom edge of your club face (very important).

Insert and tighten wing nut. If your grip is thick it may not need the wingnut.
Q: Is It Suitable For Right And Left Handed Golfers? YES!
Q: Will This Minimize My Slice Or Hook? YES!
Q: Will This Make Me Hit The Ball Further? YES!
Q: Does This Flatten My Lead Wrist At The Top Of My Swing? YES!
Q: Can Anyone Use It At All Skill Levels? YES!
Q: Will The Adjustable Insert Fit My Large Or Small Golf Club? YES!
Order now, and you'll be on your way to a better golfer with your TruSwing™ Pro within 4-9 days, thanks to our FREE expedited and tracked international shipping straight to your door.
30 days to a better swing or money back
As little as 1 training session a week to a better swing.
The aid can be used at home a doesn't require you to hit balls. Attach to a club and get the feel of the correct wrist hinge and swing plane.
If you don't see a improvement in 30 days or you're not happy with the product return the TruSwing™ Pro back to us for a 100% refund.
Try it now risk free with our 30 day money back guarantee.

At TruSwing™, we know how hard but enjoyable golf can be. Our mission is to make golf more accessible to learn and ultimately keep golfers playing and enjoying the game throughout their lifetime.
That is we are focused on not only providing high quality training aids that work but also have the correct information behind them by real PGA professional coaches all around the world.